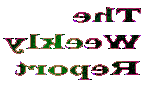 &nbsp WEEK 17 April 10th to 16th

&nbsp TOO LITTLE, TOO LATE - INDULGENCE TO AMERICAN ATOMIC INDUSTRY WORKERS

&nbsp The American government will be paying at least several hundred million dollars in compensation to people who has suffered radiation injuries in the atomic industry. Disease and death followed in the years after the birth of the extensive atomic industry. A variation of cancer types, amputations and «straight» molecular breakdown, are a few of many examples of the resultant diseases.
&nbsp - People were just disintegrating in their seats, family and friends are testifying, have been testifying for years.- We had no idea what caused it at first, but it became apparent after a while. First we tried to tell representatives of the government and were repelled. Then we attempted to tell the public, to warn them of the danger. And subsequently got late visits to our homes. They reminded us of our duty as patriots, and warned us about the consequences if we scoffed that duty. They were very persuasive.
&nbsp According to the newspaper Washington Post workers who have developed cancer may receive an amount limited to 100000 dollars. The total costs of the compensations may reach a level of 400 million dollars.
&nbsp Which many are arguing, is too little too late, and the raised concerns about the current numerous continuing health risks caused by the nuclear industry, are not abating.
&nbsp MOTHER'S MILK KEEP CHILDREN FROM GETTING FAT
&nbsp The Institute of children and youth medicine by Ludwig Maximilian University in Munich, Germany, has made a survey about the connection between nursing fat children. The survey extends to 134000 German 6 year olds.
&nbsp Children who have never been given mother's natural breast - milk are 5 to 6 times more exposed to developing obesity, than children who have been nursed by the mother the first year of their life. Obesity is a much bigger problem in northwestern Europe than starvation, it's said in the report made after the survey. It leads to increased danger of a number of diseases and is also mentally devastating. The conclusion in the survey is clear: The longer the baby are naturally nursed, (to the period of 12 to 18 months), the healthier it becomes, and is running the least risk of turning overweight later in life.
Entered 2000-04-13