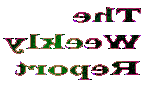 &nbsp WEEK 11 Feb 28th to March 5th

&nbsp GLOBAL WARMING PROCESS ACCELERATING

&nbsp The human created Global Warming is speeding, speeding even faster than earlier expected. The change measured since 1976 is correspondent to 4 degrees Celsius in a century, twice as much as the conclusions made by the UN - appointed IPCC (Intergovernmental Panel on Climate Change) five years ago. This is shown in a report from the national American atmospheric association.
&nbsp ęEverything on this point must be said to be preliminary. The warming seems to increase along a geometric line, and given this, we canít say that it wonít accelerate furtherĽ.
&nbsp JAPANESE RESEARCH TEAM ęPROMISINGĽ EVEN FASTER INCREASE

&nbsp - You ainít seen nothing yet, says spokesmen for a Japanese research team, commenting on the news from America.- We had this increase included in our models five years ago. Since then our understanding and our models have improved significantly. Our models, as opposed to that of most research teams, do take into account the dynamic and mutual influence between ocean and land, how each factor of Global Warming is enhancing the other. For the time being our research is showing a predicted increase of between 8 and 10 degrees Celsius during a century. The increase will be most significant in Japan, Scandinavia and North America and least in the South Pacific. And we canít even be sure that this shocking development will be the end of it. We canít be sure of anything. Except that ice will melt, the sea level will continue to rise, storms will increase in both frequency and strength.
&nbsp - It doesnít look, not good at all.
&nbsp CURRENT IMPRESSIONS FROM PLANET EARTH (I)
&nbsp In an interview survey on subjects randomly selected from around the world, concerning the changes in climate and the environment in general, housewife Helga Kramer currently residing in Frankfurt, Germany, has this to say:
&nbsp - Itís never... quiet anymore, is it? I, for one, have to think real hard to recall a calm day or night, where the wind is not blowing. Oh, there were strong winds before, too, of course, there has always been... But not this... constant noise everywhere. And the heat... we used to have winters you know. A calm blanket of snow. The first snow could come already in October and the cold last till March. I remember snow in the end of April. Itís not my imagination, you know. Iíve heard some people say it is, that we donít properly recall the weather in our youth, when my great grandfather says the climate and the weather has changed completely since his youth, heís just forgetful... But I tell you I donít buy that for a minute. Itís not difficult to sense the major changes, you know. All you have to do is listen and take a look out of the window... In my opinion some people ęfailĽ in doing just that. And still theyíre being hailed as ęexpertsĽ.
&nbsp POLICEMEN FOUND NOT GUILTY

&nbsp Four New York policemen charged with the murder of an African immigrant in February last year, are found not - guilty, of all charges, by the jury. The policemen fired 41 shots and he was hit by 19 of them. They claimed that they thought he was another person and that he was drawing a gun on them. So their lawyer preceded on self - defense, and that tactic was quite successful. The trial has been described as a farce, and as a proof of the extensive racism among the white cops and inhabitants in the city.
Entered 2000-02-29