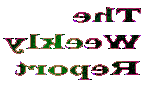 &nbsp WEEK 7 Jan 31st to Feb 6th

&nbsp USE OF PILLS GOES THROUGH THE ROOF

&nbsp The use of happy pills, chemical sex stimulation, anti depressive drugs and a number of related substances are going through the roof in the world as a whole, and in Europe and North America in particular. Both corporate sales figures and independent studies agree that people are using more and more drugs each and every day. The figures vary from a seven and 15 percent increase during 1999 compared to the previous year.
&nbsp Other studies, attempting to move beyond the numbers, to the forces and reasons behind it, are more than suggesting that people are, and increasingly so, using chemical stimulations as a compensation for real life. Or simply to make it through the day. Natural functions, like rising in the morning, go to bed at night, having fun, or having sex, are increasingly regulated by intake of chemicals. What was simply called «the uppers and downers syndrome» twenty years ago, is about to escalate beyond all reason. One person participating as a subject in a research group, stated that «it would be impossible to survive a hopelessly bleak existence without the pills».
Entered 2000-02-04