&nbsp
A legend ancient and dark, one slowly gaining substance, a terrifying reality.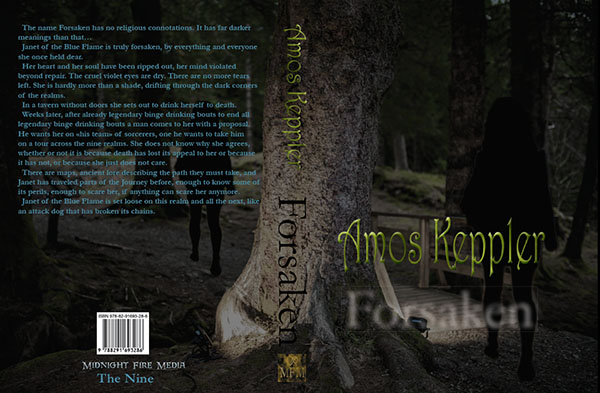 &nbsp Forsaken by Amos Keppler
&nbsp &nbsp &nbsp One story of The Nine
&nbsp
&nbsp 362 tightly spaced pages. Hardcover edition. ISBN 978-82-91693-28-6
&nbsp Release date February 29, 2020.
&nbsp Sales price US $37.50, Europe €31, UK £27.50 (probably considerably less on some online stores). 144 000 words
&nbsp
&nbsp Some places you can buy this one and others, and description of other Amos Keppler novels
&nbsp
&nbsp
&nbsp The name Forsaken has no religious connotations. It has far darker meanings than that…
&nbsp Janet of the Blue Flame is truly forsaken, by everything and everyone she once held dear.
&nbsp Her heart and her soul have been ripped out, her mind violated beyond repair. The cruel violet eyes are dry. There are no more tears left. She is hardly more than a shade, drifting through the dark corners of the realms.
&nbsp In a tavern without doors she sets out to drink herself to death.
&nbsp Weeks later, after already legendary binge drinking bouts to end all legendary binge drinking bouts a man comes to her with a proposal. He wants her on «his team» of sorcerers, one he wants to take him on a tour across the nine realms. She does not know why she agrees, whether or not it is because death has lost its appeal to her or because it has not, or because she just does not care.
&nbsp There are maps, ancient lore describing the path they must take, and Janet has traveled parts of the Journey before, enough to know some of its perils, enough to scare her, if anything can scare her anymore.
&nbsp Janet of the Blue Flame is set loose on this realm and all the next, like an attack dog that has broken its chains.

&nbsp
&nbsp
The broken wheel is turning
Slowly catching fire
Slowly turning whole
&nbsp
&nbsp
&nbsp
&nbsp
Images, text, music, art and web design Copyright Amos Keppler
First night on the web 2020-02-15
The photographs on this site are taken with Canon EOS 5D Mark 3
and edited using Adobe Camera Raw and Photoshop
Illustrations/symbols were created in Illustrator.
&nbsp
&nbsp CONTACT
mail
&nbsp IMPORTANT: To at least prevent automatic generated Spam
the e-mail address above is fake or/and incomplete.
To send e-mail add 2 - the number 2 - before the @
&nbsp
&nbsp Or use the yahoo-address below.
&nbsp Secondary E-Mail: manofhood@yahoo.com
&nbsp
&nbsp Amos on Twitter: @HoodedMan and @asterdisprime
&nbsp